From the pure Waters of Tasmania – I simply love this spot
Posted by Michael Brechtat March 12, 2011
Tasmanien, das ist die pure Naturlandschaft, der südlichste Punkt Australiens und Mekka der Aussteiger, denen ein australischer Winter mit Schnee und Minusgraden nicht zu kalt ist. Tasmanien, das steht für tolle Weine, vor allem die Pinot Noirs sind hier zu Hause und für zwei Biermarken: Cascade, vor einigen Jahren vom Foster's Konzern gekauft und eben James Boag's. Das eine aus Hobart und das andere aus Launceston – das steht für eine Städtefreundschaft, die etwa jener von Köln und Düsseldorf gleicht!
tag heuer replica
Mein australischer Bierfavorit – das James Boag's aus Tasmanien – hier mit einer großartigen TV Werbung:
I am a big Tassie fan, in fact my whole family is, well if I think about it, I don't know a single person, that isn't. The land of pure waters, the wines fantastic, in particular the Pinot Noirs and the best beer from Australia. Forget XXXX or VB, James Boag's is my favourite drop, when it comes to Aussie beer.
Michael Brecht
Beer, Tasmania, Tastings, Videos
Magnum oder Pikkolo – australischer Wein in deutschen Weinregalen
Posted by Michael Brechtat March 9, 2011
Auf die Größe kommt es an – so die weltweit einheitliche Meinung, wenn es um Weinflaschen geht. Ich selbst liebe beispielsweise Magnum Flaschen. Nicht nur, dass man die Haltbarkeitsdauer eines Weines, zumeist sind es ja Rotweine in den Magnums, beinahe verdoppelt.
Nein, ich finde, dass Magnums auch immer etwas Besonderes haben. Als Gastgeschenk immer willkommen, für Gäste im eigenen Hause eine besondere Aufmerksamkeit – ich habe noch niemals schlechte Erfahrungen mit einer roten Magnumflasche gemacht.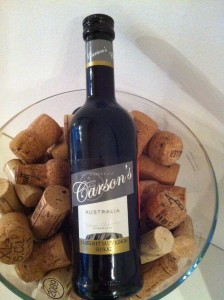 Rotwein in der 0,25l Flasche aus South Australia
Doch wie ist es mit den kleinen Flaschen gestellt: 0,375l oder gar die 0,25l Flaschen sind international auf dem Vormarsch. Während meine Großmutter früher, als sie noch lebte, des Abends gern den Pikkolo hervorholte, wohl gemerkt, an den besonderen Tagen, so erleben wir heute einen Boom der kleinen Flaschen.
In der Gastronomie schon immer gern gesehen, in Hotels in Minibars und nun auch in den Weinhandlungen für die zunehmend singulären Haushalte: die Kleinen sind fast schon Kult.
Doch was die Qualität der Weine angeht, da bin ich nicht immer überzeugt. Unser Foto zeigt einen Cabernet Sauvignon Shiraz in der praktischen 0,25l Flasche. Das Preisschild habe ich bewusst nicht abgebildet: der Preis in einem deutschen Supermarkt war herabgesetzt von 5 € auf 79 Cent – die 2. Flasche, welche ich probierte, offenbarte dann geschmacklich Entsprechendes…
Dennoch glaube ich an das Wachstum dieser kleinen Flaschen, wir werden von den guten Tropfen in dieser Größenordnung weiter berichten, um Ihnen eine gewisse Guideline für den entsprechenden Genuss zu geben.
Does size matter? At least when it comes to wine bottles in any case: Magnums or even larger bottles really catch the eye of the holder. Although we currently experience a renaissance of small wine bottles of 0.375l and 0.25l sizes in Europe. Australian wine in smaller bottles, let us have a closer look in the coming weeks, how this works here in Germany.
Ihr Michael Brecht
Cabernet Sauvignon, Einkaufstipps, Shiraz, South Australia, Tastings
Foster's Bier und Yellow Tail Shiraz – OMG
Michael Brechtat March 6, 2011
OMG – das ist für englisch-sprachige Kinder das Synonym für echte Erstauntheit, Erschrecken, ja Panik macht sich bei diesem Ausdruck meist in den Gesichtern breit. OMG – das steht für 'Oh my God' – und OMG war auch mein erster Ein- und Ausdruck, als ich bei wirklich guten Freunden diese Kombination unter dem Schreibtisch gelagert fand: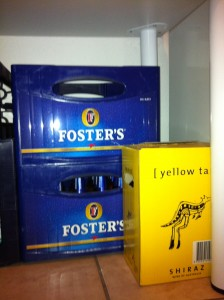 Foster's und Yellow Tail Weine
Foster's Bier, im dunkelblauen Kasten, und das Gelb der Yellow Tail Weine, hier ein Shiraz, den Jahrgang habe ich bewußt vergessen. Ein schönes Beispiel für unsere Serie: 'how do we store our wine'. Diese Kombination steht Down Under quasi unter Strafe, das meine ich jetzt, ohne arrogant klingen zu wollen, ehrlich.
Ich kenne wirklich keinen einzigen Aussie, der diese beiden Getränke auf einmal in seinem Hause beherbergt. Von Trinken kann da erst recht keine Rede sein, nun gut: hier in Deutschland ist es halt passiert.
Das Foto durfte ich nur machen mit dem klaren Versprechen, dass ich niemals den Namen dieser Freunde bekanntgeben würde. Versprochen ist versprochen. So be it.
Well, how should I explain this disaster shot, taken in the kitchen of good friends of ours here in Germany. To tell you the truth: I have never ever in six years in Australia come across the combination of Foster's beer and Yellowtail Shiraz in a private household Downunder.
I promised not to give out names while taking the shot, here we are, great friends of mine in desperate need of a real Australian drop of alcohol. I gave them a few bottles of South Australian reds, this might stimulate their taste buds, hopefully.
Michael Brecht
Neue Serie: Australiens Salomon Estate und Österreichs Weine von der Donau
Michael Brechtat March 4, 2011
Heute beginnen wir eine neue Serie auf Downunder Wines – welche Ihnen die Geschichten der Winzer aus dem alten Europa näher bringt. Jene Winzer entdeckten ihre Liebe zu Australien und kreieren heute Down Under selbst eigene Weine.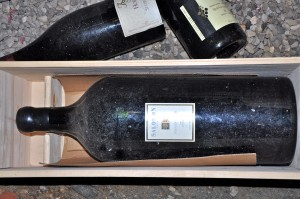 Magnum Flasche Salomon Estate aus South Australia
Unser erstes Beispiel stammt von dem Österreicher Bert Salomon. Als Vorstand des Weinhandelshauses Schlumberger in Wien hat er Mitte der 80er Jahre australische Weine nach Österreich importiert.
Mit seiner Frau Gertrud, die für L'Oréal Österreich arbeitete, wagte er schließlich in den 90er Jahren den Schritt nach Finniss River, wenige Kilometer südlich von McLaren Vale in South Australia gelegen. Dort gründeten die Beiden ihr australisches Weingut Salomon Estate – a dream come true.
Das maritime Klima der Fleurieu Peninsula lässt Weine voller Eleganz und Finesse entstehen. Shiraz, Cabernet Sauvignon und Merlot verbringen bei Salomon zwischen neun und achtzehn Monaten im kleinen Eichenfass und gelten unter den Fachleuten heute als ein Geheimtipp aus Südaustralien.
2002 haben die Beiden auch das traditionsreiche Familienweingut Salomon Undhof in Stein an der Donau in Österreich von Bert´s Bruder übernommen. Und so pendelt die Familie heute zwischen der nördlichen und der südlichen Hemisphäre hin und her. Das nennen wir seine Liebe zu Weinen aus Austria und Australia geschickt zu verbinden. Grossartig!
Bert and Gertrud Salomon made their dream come true: being an Austrian couple well situated within the Austrian wine community, they opened Salomon Estate in South Australia to produce fully flavoured, deep red wines from the Fleurieu Peninsula. Having their own Estate in Stein an der Donau in Austria, these guys travel between Australia and the middle of Europe frequently, to look after wines and their customers in both regions.
Michael Brecht
Weine aus Down Under in Austria
Michael Brechtat March 1, 2011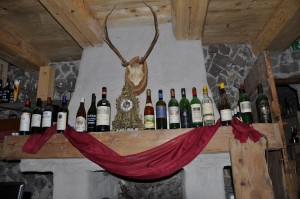 Australische Weine auf der Alm in Austria
Hoch über der Wolkendecke liegt sie, eine der vielleicht malerischsten Almhütten Österreichs. Genau hier treffe ich auf eine der bekanntesten Sommeliere aus Austria – Annemarie Foidl. Sie ist im Vorstand der österreichischen Sommeliers eine feste Größe und somit auch über die Landesgrenzen bekannt.
Oberhalb von St. Johann in Tirol verwöhnt sie in ihrer Angereralm nicht nur mit lukullischen Speisen, sondern beherbergt auf der Alm auch einen der spektakulärsten Weinkeller der Alpen. 450 Weine lagern hier, nachgezählt habe ich sie nicht, aber allein der Blick auf das Sortiment aus Australien macht riesig Spaß.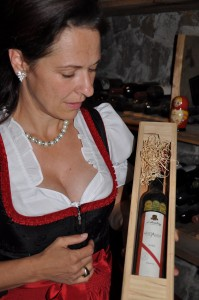 Nostalgia Tawny – eine d'Arenberg Rarität
Schwerpunkt der Sammlung aus Down Under ist die Region South Australia mit ihren Klassikern von d'Arenberg und Henschke. Annemarie präsentiert uns einen d'Arenberg Nostalgia Tawny, einen der ältesten Weine des Weinguts, von dem jedes Jahr nur wenige Flaschen gekeltert werden.
Einen Hill of Grace von Henschke finde ich in mehreren Größen vor, eine solche Magnumflasche oder auch der Eden Valley Semillon aus dem Jahre 1996 – das sind Raritäten, die Europa nicht in jedem Keller zuhause sind.
Australian Wine in Austria – a very good reason to tavel to St. Johann close to Kitzbühel and indulge on the Angereralm with Annemarie Foidl. She is one of Austria's most recognised sommeliers, being a member of the Board. Her wine cellar hosts a great number of Australian wines, Henschke, d'Arenberg and the like with quite a few different years available.
Michael Brecht
1996, 2011, Clare Valley, McLaren Vale, South Australia, Tawny, Wine Cellar, Wine Travel
Deutsche Weinsprache – leicht gemacht?
Michael Brechtat February 25, 2011
Die Aussprache deutscher Weinfachbegriffe ist ja durchaus schwierig, nicht nur Winzer zwischen Ahr und Sachsen sind für uns Weinliebhaber häufig schwer zu verstehen, nein für einen Nicht-Deutschen erscheint die Hürde einer 'Trockenbeerenauslese' oder 'Saale-Unstrut' fast unüberwindlich.
Das Deutsche Weininstitut hat daher ein Video herausgebracht, welches uns diese Aussprache erleichtern soll, nicht nur den Sachsen oder Pfälzern in Richtung Hochdeutsch, nein vor allem den Engländern, Franzosen und Australiern. Gute Idee, wie wir finden!
Jancis Robinson, James Halliday, Stuart Pigott – sie alle sind angesprochen – hier ist die vielfach sehnlichst erwartete Lösung zum tieferen Verständnis deutscher Weinsprache:
Was denken Sie? Ist das der richtige Weg? Brauchen wir so etwas? Oder halten wir es mit Kath und Kim, zwei 'jungen' Damen aus Australien die so herrlich den deutschen Riesling als RAISLING oder Chardonnay als KARDONNAY bezeichnen. Frei nach Schnautze – so wie es den beiden Damen aus Fountaingate gefällt…
Here is the German help for wine lovers trying to cope with the German language. Is it necessary – well I think yes, as many of our friends struggle with Reisling or Kardonnay in German – I instantly remember this video of Kath and Kim from Downunder tasting wines in London.
The German expressions do have an English sub-title – not bad for a start and helpful for German winemakers too, currently struggling with the English translation of German wine expressions.
But what do you think?
Michael Brecht
2011, Events, Videos
Tasting Highlight in Melbourne: die Cellar Door und Farm Gate TourMichael Brechtat February 23, 2011

Das Melbourne Food & Wine Festival bietet insbesondere für uns Weinliebhaber jedes Jahr tolle Überraschungen. Der Name ist neu, die Idee und Umsetzung stammt aus den Erfahrungen der letzten Jahre: Cellar Door & Farm Gate!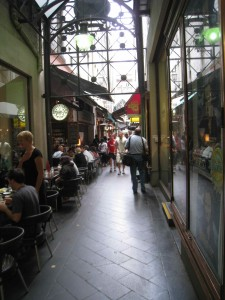 Die kleinen Gassen in Melbourne
Mehr als 60 viktorianische Winzer präsentieren an einem langen Wochenende ihre besten Weine entlang des Yarra Flusses, zusätzlich zeigen die lokalen Produzenten ihre Vielfalt für die gesunde Küche, in diesem Jahr sind sehr viele Bioproduzenten mit an Bord.
Für uns ist dieses Wochenende ein absolutes Highlight des Festivals, planen Sie Ihren Weg nach Melbourne und entdecken Sie Ihren Favoriten unter den sympathischen Winzern aus Viktoria.
Alfresco wine tasting combined with delicious gourmet treats, this is what Melbourne's own Cellar Door & Farm Gate stands for.
The Festival's original boutique wine marketplace gathers more than 60 Victorian wineries, artisan producers and craft brewers to bring you the ultimate Victorian food and wine experience.
Taste your way around Victoria's wine regions, settle down by the Yarra river with a picnic, or pick up a tasty sausage at the Rare Breed BBQ – it couldn't be more Australian.
Wine, food and a new riverside location in South Wharf of Melbourne – a splendid way to spend the first weekend of the Festival in Victoria's capital.
Saturday 5 and Sunday 6 March, South Wharf in Melbourne, entry is $35
Michael Brecht
Beer, Bendigo, Events, Fleurieu Peninsula, Food, Geelong, Heathcote, Mornington Peninsula, Rutherglen, Yarra Valley
Die Macquarie Group Sydney Royal Wine Show präsentiert die Gewinner des Jahres
Michael Brechtat February 21, 2011
In diesem Jahr haben an der Sydney Royal Wine Show, benannt nach der Investment Bank Macquarie Group 2.283 Weine teilgenommen, das Tasting Panel hatte also jede Menge zu tun. 36 Trophäen und insgesamt 982 Medaillen wurden vergeben, das ist Rekord. Hier sind die wichtigsten Ergebnisse für Sie zusammen gefasst: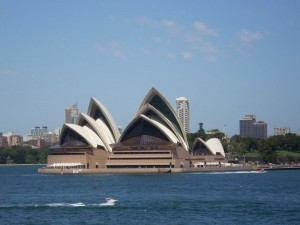 Sydney Royal Wine Show 2011
Peter Lehman, Kultwinzer aus dem Süd-Australischen Tanunda im Barossa Valley gewann die Wertung des 'Standort Performers des Jahres 2011′. Die Macquarie Group Perpetual Trophy erhielt er für seinen 2005 Margaret Semillon, den Royal Agricultural Society of NSW (RAS) Annual Prize für den besten Semillon und den lbert Chan Memorial Prize für den besten Weißwein der Show. Peter Lehman überzeugte die Juroren in diesem Jahr besonders, denn mit drei Trophies, vier Gold, drei Silber und sechs Bronzemedaillen machte er vor allem für den Semillon aus dem Barossa beste Werbung.
Ein weiteres Highlight der Show war die Tiefe an hochklassigen Chardonnay Weinen aus Australien, von Tasmanien bis hin zu Western Australia arbeiten Winzer erster Güte mit dieser Rebsorte. Ein Trend, der sich ja auf Downunder Wines seit Jahren nachhaltig bestätigt, unsere vielen Berichte über die hervorragenden Chardonnays, insbesondere aus cool climate Regionen, zeigen das.
Eine Aufstellung der Gewinner der Sydney Royal finden Sie hier, viel Spaß bei der weiteren Lektüre.
After tasting and critiquing their way through 2283 entries, the judges at the 2011 Macquarie Group Sydney Royal Wine Show have awarded top honours to the best wine and brandy on offer from the Australian wine industry, with chardonnay the stand-out favourite. Thirty six trophies and 982 medals were awarded to entries representing Australia's top wine regions.

Peter Lehmann Wines from Tanunda, South Australia was the standout performer of this year's Show, taking out the coveted Macquarie Group Perpetual Trophy for its 2005 Margaret Semillon, the Royal Agricultural Society of NSW (RAS) Annual Prize for Best Semillon and the Albert Chan Memorial Prize for Best White Wine of Show.
The winning entry from Peter Lehmann Wines greatly impressed the expert panel of 31 judges, led by Chairman of Judges Iain Riggs."Peter Lehmann Wines was exceptional this year, picking up three trophies, four Gold, three Silver and six Bronze medals in total and in the process made a bold claim for Barossa semillon," Mr Riggs said.
At the other end of the production scale, Chapman Grove Wines from the Margaret River region also had an outstanding Show with two trophies from its four Gold medals across four different varieties."
The 2283 entries from 405 exhibitors judged at this year's Wine Show in Sydney covered red and white table wines, sparkling, fortified wines and brandy, with an impressive 43 per cent of entries receiving a medal.
2011 saw the Sydney Royal Wine Show become the first capital city wine show to implement a regional grouping judging system, based on the geographical indicators (GI) set out by the Australian Wine and Brandy Corporation. "This innovation was trialed to assess its suitability in the judging process," Mr Riggs said. "It allows smaller entry numbers per class and importantly less palate fatigue among the judges, but the main purpose is to judge like with like. The six judges involved in the class judged by GI were positive in their comments," Mr Riggs said.
Wine Show Committee Chair Lyndey Milan said the standard of Australia's chardonnay was exceptional this year.
"It was pleasing to see the depth of quality of Australia's chardonnay with Gold medals being awarded to wineries stretching from Tasmania to Western Australia. However, the ever-reliable shiraz topped the medal tally," Ms Milan said. The 2011 Show saw the introduction of a new trophy. Formally the RAS of NSW Annual Prize for Chardonnay, the AP John Coopers Perennial Trophy for Best Varietal Wine Chardonnay was awarded to Wolf Blass' 2009 White Label Chardonnay.
Michael Brecht
Suche Archiv Kategorie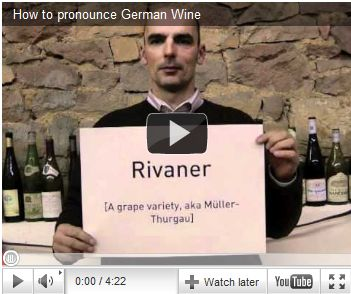 Aktuelle Weintipps
Einkaufstipps
Weine unter 10 €
Weine bis zu 20 €
Weine für Genießer
Aktuelle Australier im Glas
Aktuelle Neuseeländer im Glas
Categories
Aktueller Weintipp
Aktuelle Australier im Glas
Einkaufstipps
Weine bis zu 20 €
Weine für Genießer
Weine unter 10 €
Australian Wine Regions
Adelaide Hills
Albany
Barossa Valley
Beechworth
Bendigo
Canberra
Central Ranges
Clare Valley
Coonawarra
Fleurieu Peninsula
Geelong
Heathcote
Hunter Valley
Kangaroo Island
Macedon Ranges
Margaret River
McLaren Vale
Mornington Peninsula
Mount Barker
Mudgee
Murray Darling
New England
Orange
Riverina
Rutherglen
South Coast
Southern Highlands
Tasmania
Yarra Valley
Background
Beer
Biodynamic
Books
Climate Change
Cool Climate
Events
Export
Food
Interview
James Halliday
Qantas
Series
Australian Wineregions
European Winemakers Down Under
My drink today
on Australian Sparkling
Tastings
Wine Cellar
Wine Storage
Wine Travel
Grape Variety
Arneis
Blaufränkisch
Cabernet Sauvignon
Champagne
Chardonnay
Chenin Blanc
Durif
Gamay
Gewurztraminer
Grenache
Grüner Veltliner
Marsanne
Merlot
Muscat
Pinot Grigio
Pinot Gris
Pinot Noir
Port
Riesling
Rose
Sangiovese
Sauvignon Blanc
Semillon
Shiraz
Sparkling
Syrah
Tawny
Tempranillo
Verdelho
Viognier
NSW
Queensland
South Australia
Uncategorized
Victoria
Videos
Weinregionen
Western Australia
Year
1988
1994
1996
1999
2001
2002
2003
2004
2005
2006
2007
2008
2009
2010
2011
Get our latest news
Tags
Adelaide Adelaide Hills AustraliaHills Australia australian sparkling australian wine australienwein australienweine Barossa Valley Beechworth Beer Cabernet Sauvignon Canberra Celebrations Champagner Chardonnay Cool Climate cool climate wines downunderwines Events Export Geelong Grenache Hunter Valley Interview McLaren Vale melbourne Mornington Peninsula Orange Pinot Noir Riesling Rutherglen Sauvignon Blanc Shiraz South Australia Southern Highlands Sparkling Sydney Tasmania Tastings Victoria wein wine wineries Winzer Yarra Valley
Partners in Wine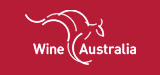 Archives
March 2011
February 2011
January 2011
December 2010
October 2010
September 2010
August 2010
July 2010
June 2010
May 2010
April 2010
March 2010
February 2010
January 2010
December 2009
November 2009
October 2009
September 2009
August 2009
July 2009
June 2009
May 2009
April 2009
March 2009
February 2009
January 2009
December 2008
November 2008
October 2008
September 2008
August 2008
July 2008
June 2008
May 2008
April 2008
March 2008
February 2008
January 2008
December 2007
November 2007
October 2007
September 2007
August 2007
Pages
Impressum
Kontakt
Über uns
Video
March 2011
M T W T F S S
« Feb
1 2 3 4 5 6
7 8 9 10 11 12 13
14 15 16 17 18 19 20
21 22 23 24 25 26 27
28 29 30 31